POPE FRANCIS TO SPEAK AT THE UN ON CLIMATE CHANGE AND CALL TOGETHER ALL FAITHS
(Bob: Here he goes again. After calling on Protestant Charismatics to join with Rome; being the first Pope to ever visit a Charismatic celebration; visiting a Pentecostal church in Italy; being visited by so called top evangelicals such as: Kenneth Copeland, and Joel Osteen as well as leaders from Protestant evangelical seminaries and colleges, and now named as the man who singlehandedly helped thaw relations between the USA and Cuba, Pope Francis is on the move again.
With an incredibly successful 2014 behind him the leader of the deceptive Babylonian Roman Catholic Church will address the UN and call all faiths together.
Now tell me we are not in the end times and the great falling away a.k.a. the great deception is not yet here......Oh really?)
--------------------------------------------------
Pope Francis's edict on climate change will anger deniers and US churches
Pontiff hopes to inspire action at next year's UN meeting in Paris in December after visits to Philippines and New York.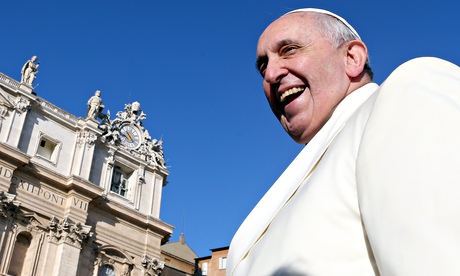 He has been called the "superman pope", and it would be hard to deny that Pope Francis has had a good December. Cited by President Barack Obama as a key player in the
thawing relations between the US and Cuba
, the Argentinian pontiff followed that by
lecturing his cardinals on the need to clean up Vatican politics
. But can Francis achieve a feat that has so far eluded secular powers and inspire decisive action on climate change?
It looks as if he will give it a go. In 2015, the pope will issue a lengthy message on the subject to the world's 1.2 billion Catholics, give an address to the UN general assembly and call a summit of the world's main religions.
Read Full Story Here